The aim of the Kilmacud Stillorgan Local History Society is to promote and sustain an interest in our culture, heritage and history, particularly with regard to Kilmacud Stillorgan and the adjoining areas.
Its function is primarily educational and recreational, and the Society will not become involved in pressure groups or public protest.
To achieve this aim the Society will endeavour to :
organise talks and presentations on a regular basis;
arrange a trip to a place of historical interest once a year;
liaise, co-operate, associate and reciprocate with other associations with similar objectives; and where possible, publish materials / findings.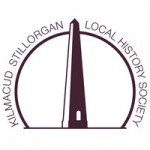 Committee Members:
Liam Doyle, Chair
Donough O'Reilly, Secretary
Clive O'Connor, Treasurer
Anne O'Connor
Peter Sobolewski
Leonard Kaye
                Muirghen O'Reilly-Kelly