Robert Tressell, Dubliner: author of 'The Ragged Trousered Philanthropists'
by Bryan MacMahon
Robert Tressell was the pseudonym of Robert Noonan, house-painter and sign-writer, who was born in Dublin in 1870 and died in Liverpool in 1911. He was buried in a pauper's grave.
The Ragged Trousered Philanthropists was his only book and it was written while he lived in Hastings – "Mugsborough" in the novel. First published in abbreviated form in April 1914, the novel has challenged, entertained and inspired countless readers. Robert Noonan was a passionate socialist and his scathing denunciation of apathy and hypocrisy, of injustice and inequality, is still relevant today.
To mark the centenary, a new book entitled Robert Tressell, Dubliner: author of 'The Ragged Trousered Philanthropists' was launched in Dublin on 13 March 2014. Written by Bryan MacMahon, the book tells the story of the gradual revelation of some of the details of Robert's life and the discovery of his manuscript, leading to the novel's publication in full for the first time in 1955.
Much new information is included about Robert Noonan's Irish background and early years, and about the remarkable lives of his unconventional parents, Mary Noonan and Samuel Croker. The book details new evidence from genealogical sources and property records which shows that Robert was resident in London by the age of eleven and most likely by the age of five. He was a Dubliner who was also a Londoner and who spent over ten years in South Africa.
Visit "www.1066.net/tressell" for more information.
Robert Tressell, Dubliner: author of 'The Ragged Trousered Philanthropists' is published by Kilmacud Stillorgan Local History Society. Profits go to Barnardos.    Click Online Shop to purchase.
"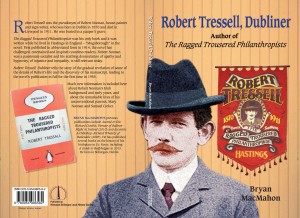 "
Bryan MacMahon gave an illustrated talk on Robert Tressell, followed by the book launch, in Glenalbyn, Kilmacud Crokes GAA Club, Stillorgan, Co. Dublin.
Further information on the book is available from tresselldublin@gmail.com
Bryan MacMahon's previous publications include Ascend or Die: Richard Crosbie, Pioneer of Balloon Flight in Ireland (2010) and Eccentric Archbishop: Richard Whately of Redesdale (2005). He has published several books on the history of his birthplace in Co. Kerry, including A Guide to Ballyheigue in 2013. He lives in Stillorgan, Co. Dublin.